Anti Gangstalking Network
Self Defense .... part 1
Finding Allies

Family, friends, employers, and associates must be aware that there is a problem with extremists. Many police departments have officers who specialize in extremist groups. Groups try to give the target the impression that the world is against him, but it is a small group compared to the local population.

Shut offs of electricity, phone service, water or cable must be reported to service providers that extremist groups are involved. They are aware that a few of their employees are involved with those groups, and they will take action.

Stalking operations tend to become larger as groups recruit more supporters. This could involve numerous vehicles from the same companies. Employers will be interested to know that their employees are using company vehicles to harass people. A cell phone call which includes the license number of the company vehicle will produce results.

Officials working for the city and county will also be interested in knowing that some of their employees are spending time driving around and harassing people.
More on Self Defense

Protecting Yourself [From the Stalker Groups]

... Groups surround and attempt to control the speed of police vehicles, just as they do with their targets. If a police officer stops one of their vehicles, it is not uncommon for several vehicles in their convoy to stop and harass the police officer. It is also common for groups to harass the judge presiding over any case which involves one of their members.

Targets must conduct themselves as if all conversations in public places and over the phone are being monitored. They must realize that their personal weaknesses will be known to these groups and exploited in an attempt to destroy them [the targets]. Groups across the country are large enough to target those of minor importance and even those who might potentially be important.

Those targeted for harassment will have no problem concluding that someone is after them, but most never know who it is. Groups begin their operations with a "sensitization" program. This involves tactics like having uniquely marked vehicles, like a white car with different colored paint (which can be removed) poured all over it, follow the target wherever he drives, without the frequent trade offs which are usually used. That vehicle may also be parked in front of his house at night. Several drivers may stop [the target] to tell him he has a flat tire, for example. When they talk on their cell phones, group members will ask if the target has been sensitized. They delight in pretending to be passers by who "notice" that the target is being followed or harassed. They hope that the target will confide in them so they can use any information he provides to improve their attack.

Laughing at group members or otherwise letting them know that their tactics do not work is dispiriting to them, since they believe the superiority of their group is because of the tactics they employ.

... They spend considerable time describing to one another what they did, and the target's reaction, although it may not be true.

Group members are taught that the target is the reason for their problems. He is the reason why their lives are a failure. Group leaders hope that their followers will reach the point where they "have to resolve their problems." This can result in a traffic accident, assault, and occasionally in murder.Targets also face the threat of assault, particularly if they are female or old. Group members also try to entice the target to assault them, but this is never done without having witnesses present. The criminal conviction of the target, following the testimony of numerous "concerned citizens" can be followed by a civil lawsuit.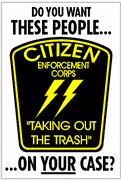 More on Self Defense
Using violence,against extremist groups is exactly what they want. When dealing with extremist groups patience is important to remember. Using violence against the stalkers are not recomended. Ties to police depts are obvious and it will back fire on the victims who may be arrested for assault.
Reverse, psychcological self defense is recomended. For example if sorrounded by members with cell phones if you are being stalked carry a noise maker such as small bike horn,when they try to talk on the cell phone make lots of annoying noises.
If group members stare and make faces at a target, use the same tactics in reverse,such as annoying grins and funny faces. Dont be afraid to use other means to distrupt their operation such as using car horns and bright headlites to annoy them.
As always use caution while driving,but dont be afraid to provoke group members just enough to get a reaction. Such as rude driving towards the stalkers.